Punter Backs Queensland To Collect $167,000 In State Of Origin Betting
With kick-off less than 32 hours away, a punter with online bookmaker sportsbet.com.au is tipping Queensland will make it seven straight Origin series victories, this morning placing a $100,000 on the Maroons at $1.67 to win Game 3.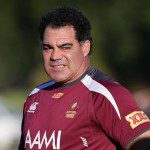 Prior to then, New South Wales had attracted 68 percent of money wagered in head-to-head betting. Queensland remain the $1.67 favourite with New South Wales the $2.25 outsider.
"Either side of that $100,000 wager on Queensland, the punters have been very keen on New South Wales," said sportsbet.com.au's Ben Hawes.
"We've taken almost double the bets for New South Wales to win compared to the Maroons in head-to-head betting."
The Blues have attracted 52 percent of the bets placed on a 1-12 ($3.30) point win and 61 percent of bets to win 13+ ($6.00).
These promo betting odds are direct from Sportsbet.com.au. Bet with Sportsbet Australia, enjoy these odds and receive a $500 Sportsbet Free Bet. Just use the Sportsbet Promo Code 27110 when joining Sportsbet.
State of Origin – Game 3 Betting
(prices in brackets from 2 July)
$1.67 Queensland (steady)
$2.25 New South Wales (steady)
Margin Betting
$2.90 Queensland 1-12 (steady)
$3.50 Queensland 13+ (steady)
$3.30 New South Wales 1-12 (steady)
$6.00 New South Wales 13+ (in from $6.50)
$21 Draw (steady)
Line
$1.92 Queensland -3.5
$1.92 New South Wales +3.5